Pharmaceutical Production Tank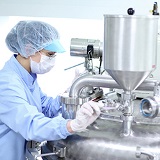 Pharmaceutical applications require a high level of accuracy and a sanitary package. Level Plus® liquid level transmitters are able to provide both qualifications and have been doing so for the pharmaceutical industry for over 25 years.

The SoClean® level transmitter provides an analog output for the tank level and is available in a sanitary Ra 25 µin finish or an electropolished Ra 15 µin finish. The complete stainless steel construction allows the SoClean® to be used in CIP, SIP, and washdown applications.